URBN Personalization Strategy
overview
Deliver personalization methods that increase and optimize recommendation placements across the web-store(s). Add new or enhance existing email / messaging strategies.

Build unified plan for delivery with respect to the three personalization initiatives set forth by URBN.

activities performed
Research, analysis, group facilitation, journey mapping, roadmap creation.

team
Product management, lead designer, my role
UX researcher, Amy Lanza
UX Designer, Howard Gu
Brand marketing teams from Anthropologie, Free People, Urban Outfitters.

my role
I drove the roadmapping creation, workshop design, facilitation, and distillation efforts.

Post research and analysis, I presented the roadmpa initiatives to each brands leadership teams and hosted collaborative prioritization sessions to align brands on MVP deliverables.
URBNs 3-year Opportunity
---
product research and analysis
process
---
Competitive Analysis
Native apps benefit from the use of geolocation and push notifications to enhance loyalty programs and the delivery of personalized content feeds based on user activity and preferences.
The majority of URBN's web competitors utilized recommendation trays (mostly influenced by basic on-site shopping history). These trays are typically found on product paes, in the shopping cart, and on wish lists (7 sites total).
A large number of "recently viewed" and "customers also bought" trays were found which (on deeper investigation) did not actually delivery personalized content.
American Eagly was the only site to deliver a personalized "just for you" page.
Observed Competitors
Websites
American Eagle, Ann Taylor, ASOS, Express, Forever21, GAP, H&M, J.Crew, Macy's, Nordstroms, Sephora, Zara
Native Applications
Amazon,
Etsy, Nike+, Starbucks, Spotify, Youtube
Key Observations
Heavy use of "Recently Viewed" and "Customers Also Bought" trays not delivering personalized content. American Eagle was the only site to deliver a personalzed "Just for you" page.
---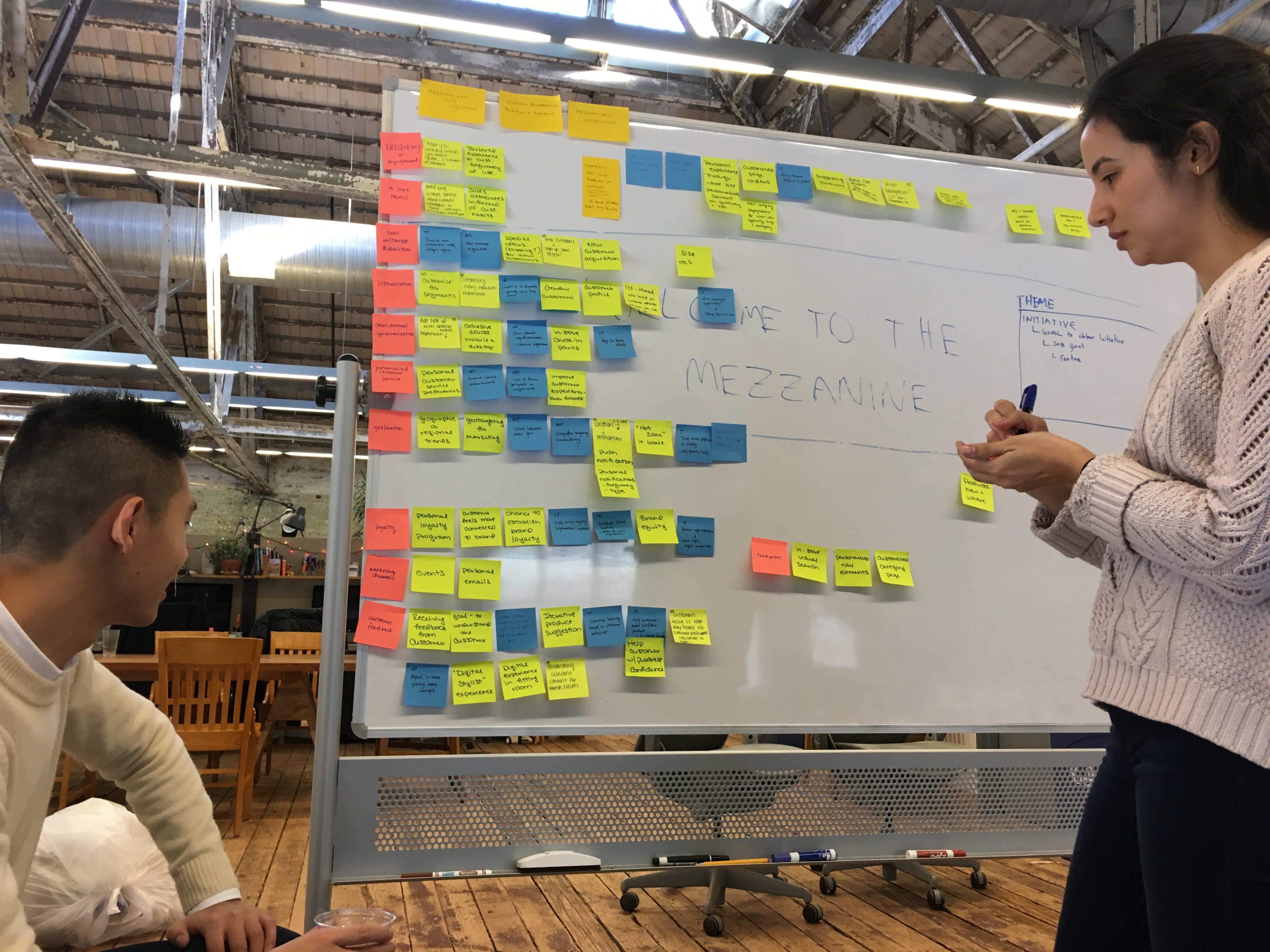 Brand Brainstorm
We facilitated a 30 person brainstorming session with the Creative Leads, Web Production, Analytics, and Marketing teams from Urban Outfitters, Anthropologie, and Free People.

Promoting ideation and exposition of individual brand goals for "What personalization means to us?" influenced rich conversation, built empathy between teams, and highlight similarities and disparaties.

Findings
Brands found alignment across the following categories:
• Frequency of engagement
• Browse path personalization
• Segmentation
• Customer acquisition
• Geolocation
• Omni-channel synchronization
• Loyalty
• Customer feedback
• Personalized customer experience
• In-store experience
Personalization Playbook
---
Immediate term details: Phase 1
Personalized content delivery examples
The following landing pages are loaded from the same URL, powered by a personalization engine, which leverages logged cookie data on user interaction patterns across Urban Outfitters digital customer touchpoints to load specific marketing collatoral tailored to that customers assumed desires.
Results
Our first launch was on-site personalized marketing collateral. As the trends below highlight, there was about a 1.5 percentage point lift in CTR's over the course of 3 months, leading into peak season, and a dramatic rise in incremental revenue per session which equated to a $4.2MM lift.
---
Near term details: Phase 2
---
Mid term details: Phase 3

---
Long term details: Phase 3